Okay, my Hair was today a total mess. My Bangs are crooked, curly and my Hair has waaaay~ too much volume because I used the wrong shampoo. (ノд<。)゜。
Anyway… at least I was thinking about trying a Hime-Hairstyle, since this Hairstyle do need much hair. And what should I say: it works! I didn't even need more than 2 minutes for styling them up. Really cool! I think about wearing Hime Lolita on the next Dolls Garden (´・ω・`) I am still dreaming of a blue-black combination. I also found some nice blue Roses made out of some weird material I can't really define. Maybe I'll make some Haircombs out of them, because they are really cute~ (´~`)
Here's another coordination btw.: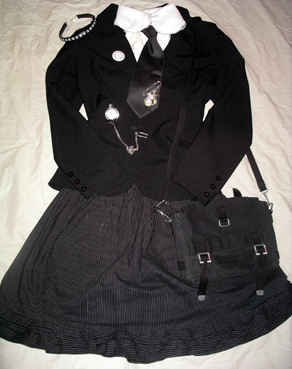 Very Business-Like! (´~`)  I am thinking about sewing a Headeating Bow out of Pinstripe-Fabric for this Outfit… haha.
Oh, okay… I noticed that this entry is quite on a good position when someone is searching for "Hime Hair" via google. I have some kind of bad conscience since here is actually no Picture where a Hime Hairdo is shown. Due to this I'll add some useful links, where you guys can actually find some better pics – here we go:
Himegyaru ★ Princess ROYALE ★ – a german Hime-Gyaru community, which is still on the beginning but has very useful tips already. Notice: its all written and translated in German!
Hime Lolita Community at Livejournal – English. Its… a Livejournal community. Whee! Nothing more to say
Hime Gyaru Community at Livejournal – English. This time Gyaru.
Hime Hair Tutorial 1 – at Livejournal
Hime Hair Tutorial 2 – at Livejournal
and… for my first try: I used something the Hairdressers in Germany also call "Haarkissen", which is like a tiny little cushion you can put under your hair. You don't have to tease your hair when using this option because all you have to do is put your hair around this little cushion. Well… just as a little tip, when you go to a hairdressers-supply-store the next time!